Awards
---
Club Awards
If you indicate on your log submission that you want your score to count for a particular club, your score will also go to that club's total score. We give out two club awards: Highest Aggregate Club Score in Georgia and Highest Aggregate Club Score outside of Georgia. Your club can win! The Southeastern DX Club (SEDXC) and the Southeast Contest Club (SECC) as sponsors of the GQP are NOT eligible to compete for the Georgia Club Award. The two club awards are gavels, appropriately engraved.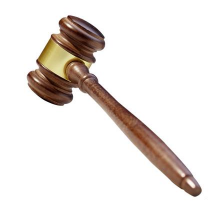 Individual Awards
Thanks to our generous sponsors the Georgia QSO Party awards twenty nine plaques to amateurs with top scores in several categories. Here's what a plaque looks like: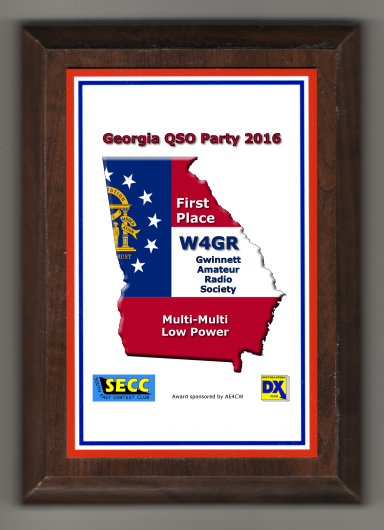 Plaques are wood, 7" x 9"
Note: a MINIMUM of 50 contacts in your log is required to be eligible to win a plaque.
Plaque
Sponsor
Georgia Multi-Op/Single-Transmitter
High Power
NN4K
Georgia Multi-Op/Single-Transmitter
Low Power
Balch Law Group KS4MM
Georgia Rover Mixed Mode Single-Op
K4BAI
Georgia Rover Mixed Mode Multi-Op
K4SB Memorial
(K4AQ and K4GA)
Georgia Rover CW Single-Op
K4PIC
Georgia Rover CW Multi-Op
W4AX
Georgia Rover Phone Multi-Op
KD4ICT
Georgia Rover Phone Single-Op
Gwinnett ARS
Georgia Mixed Mode High Power
Columbus ARC
Georgia Mixed Mode Low Power
Southeastern DX Club
Georgia Mixed Mode QRP
North Georgia QRP Club
Georgia CW High Power
N4FD
Georgia CW Low Power
ND4V
Georgia CW QRP
KC4AA
Georgia Phone High Power
Gwinnett ARS
Georgia Phone Low Power
Alford Memorial ARC
Georgia Phone QRP
N4TOL
W/VE Mixed Mode High Power
W4TE
W/VE Mixed Mode Low Power
K4VGI Memorial (K4BAI)
W/VE Mixed Mode QRP
W6IZT
W/VE CW High Power
KD4YDD
W/VE CW Low Power
W3DYA
W/VE CW QRP
K4DX
W/VE Phone High Power
K4ROZ
W/VE Phone Low Power
KM4LS
W/VE Phone QRP
K4PHE
Top Score from the W6/W7 Call Area - "Best of the West"
N4GG
DX Mixed Mode (Either HP or LP)
N4PN
DX CW (Either HP or LP)
WF4W Memorial (WK4U)
DX Phone (Either HP or LP)
K4SSU
Certificates
---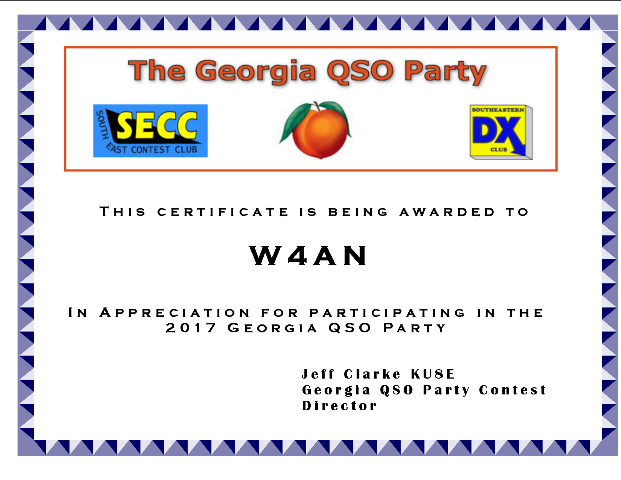 Functionality to generate your own online certificate will be added sometime in the future. If you would like an electronic certificate emailed to you click on the Contact Us link on the top of the page to request one.